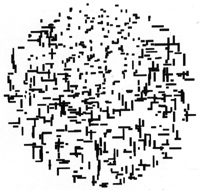 Computer Composition with Lines 1964
© AMN 1965
This is an archive of the Digital Art Museum for historical reference.
See dam.org for the current site.
A. Michael Noll (USA) b 1939
Dr. Noll spent nearly fifteen years performing basic research at Bell Labs in Murray Hill, New Jersey, starting there in 1961. His research included work in such areas as: the effects of media on interpersonal communication, three-dimensional computer graphics, human-machine tactile communication, speech signal processing, and aesthetics. He is an early pioneer in the use of digital computers in the visual arts, and his work has been widely exhibited throughout the world. The exhibition of his computer art at the Howard Wise Gallery in New York City in 1965 was the earliest such exhibition in the United States. His computer-generated ballet was created in the early 1960's and was the first such use of computers. His study of aesthetic preferences for a computer-generated pattern versus a painting by Mondrian has become a classic. In the late 1960's and early 1970's, he constructed interactive three-dimensional input devices and displays and a three-dimensional, tactile, force-feedback ('feelie') device that were the forerunners of today's virtual-reality systems. He also was one of the first researchers to demonstrate the potential of scanned displays for computer graphics.
Noll essay The Beginnings of Computer Art in the United States: A Memoir